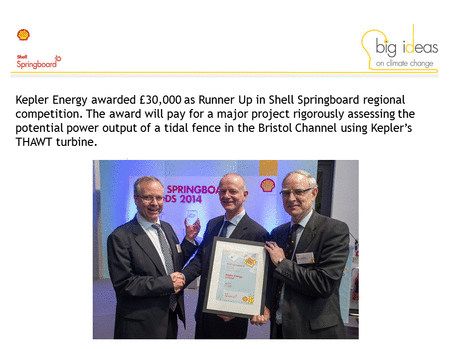 June/July 2015, following the issue of the Press Release on 23rd June, a significant number of articles were published, see for example:http://www.gizmag.com/kepler-energy-tidal-energy-fence-bristol-channel/38148/http://www.walesonline.co.uk/business/business-news/now-another-tidal-energy-technology-9508889
http://www.renewableenergyfocus.com/view/42606/tidal-power-a-different-perspective/
http://www.nce.co.uk/news/energy/fresh-140m-tidal-energy-scheme-mooted-for-bristol-channel/8685239.article
http://www.trendsderzukunft.de/kepler-energy-plant-effizienteres-25-megawatt-gezeitenkraftwerk-im-bristolkanal/2015/07/06/
February 2015,
Sean Westrope presents the Kepler proposition at Cleantech Innovate.
https://www.youtube.com/watch?v=1hp0HYaJDG4
May 2014
Kepler Energy features in influential
Infrastructure Intelligence magazine article.
March 11th, 2014 (see right), Kepler Energy wins Shell Springboard prize.
See also on the
acumen7 website
.
January 2014,
results of study on potential tidal generation output in Scotland led by Professor Guy Houlsby published in multiple media, see for example the
BBC:May 1st, 2013
The Economist
publishes article on Tidal Power, features Kepler Energy:
New Scientist
publishes article on Tidal Energy and refers to Kepler Turbine:
New Scientist
publishes correction letter regarding Kepler Turbine!
Technology Strategy Board
awards grant for development of THAWT:
25/10/10 Isis Innovation
announces formation of Kepler Energy:
---